No matter how big or small your space is, you can organize your hallways effectively with the correct storage ideas. Hall storage is a must in every home, and most especially if you're a busy household with various sets of coats, keys, and mismatched shoes to stow away in a lavish fashion.
For the record, clever hallway ideas don't have to be bland, and we promise this is a clear storage box-free zone. Stylish and practical, the days of a messy hallway are done, and no more tripping over shoes or clutter when you only wanted to reach the bedroom.
Elegant Built-Ins
Starting off with something large and in charge, these stunning white built-ins with a window bench in the middle are total hallway goals. This is a classy and rich-looking space that provides storage options and makes a regal and sophisticated impression.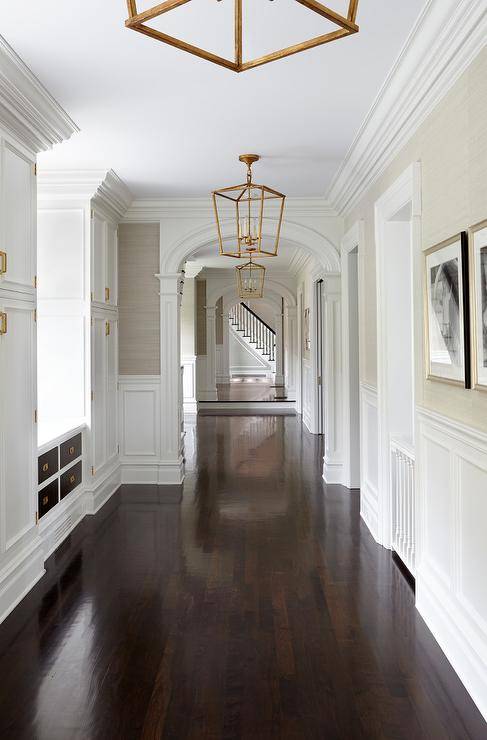 Blocks of Color
Matching throws and ottomans add a unique touch and provide a pop of color to this charming hallway. This is just one idea on how you can add personality and style to your hallway and give yourself some hideaway storage spots. The ottomans provide a place to sit, and you can stash stuff you don't want on display inside.
Artful Style
A white built-in foyer reading bench is fitted with drawers donning oil-rubbed bronze pulls and topped with a blue seat cushion. The bench is positioned beneath a niche holding an art piece, thus providing a spot to sit and relax and store away items.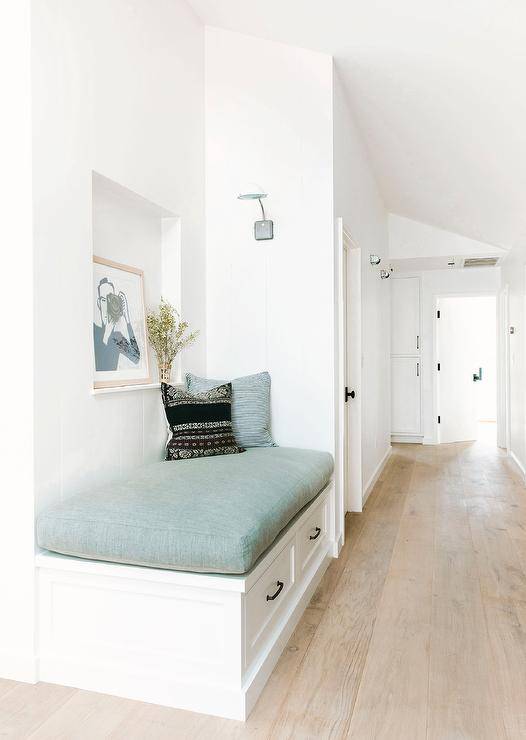 Colorful Storage
This multi-functional hallway that leads to the kitchen features built-in shelving lined with brown, beige, and hot pink storage boxes alongside the dark brown walls this space is a contrast to the rest of the white walls and gives this hallway character and color.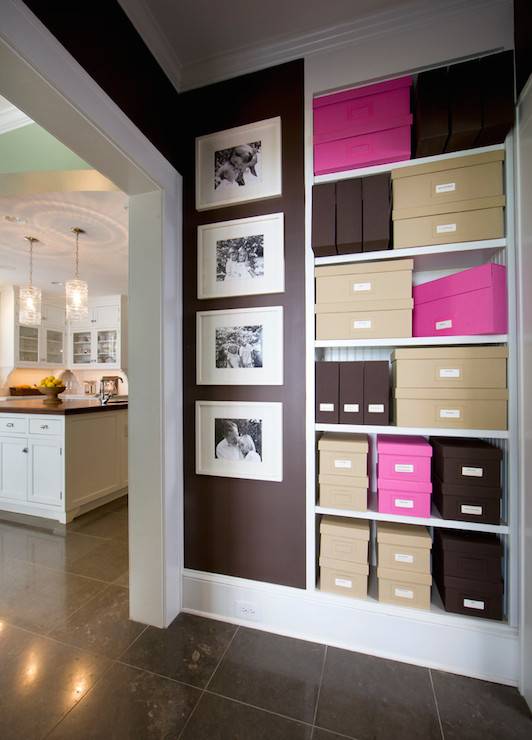 Shelving Unit
At the top of the stairs, a perfectly placed shelving unit becomes a modern place to store decor items or even use for decoration to add a contemporary look to your hallway.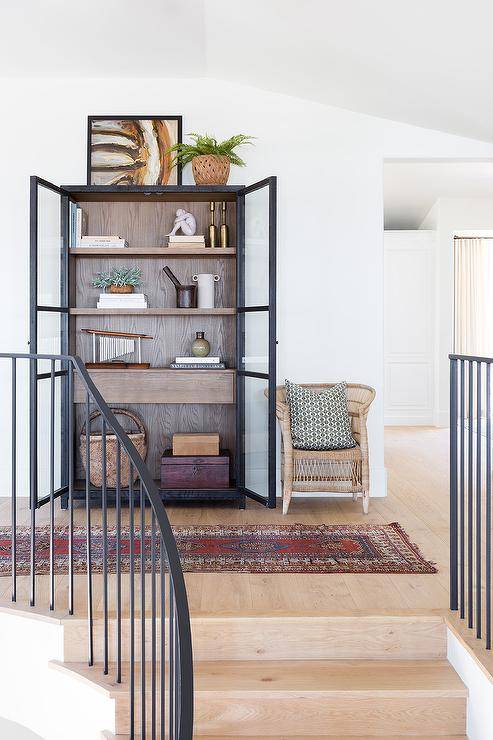 Hallway Closet
While this photo here depicts a closet in a hallway, we can easily use this photo for inspiration. You can install floor-to-ceiling open shelving in your hallway to add more storage or more homes for decor items.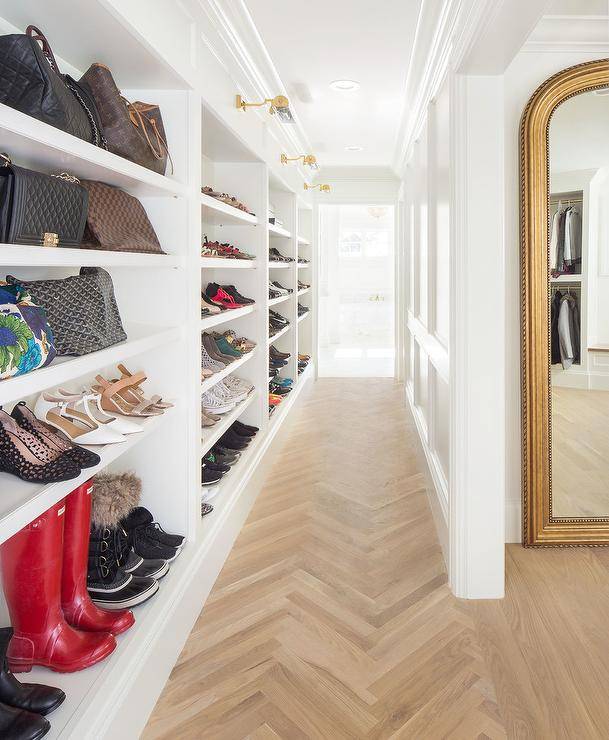 Illuminated Shelving
This hallway features black niche shelves illuminated by antique brass picture lights. Illuminate your storage hallway space and store your items in style and light. We love the stark contrast of the black against the white walls.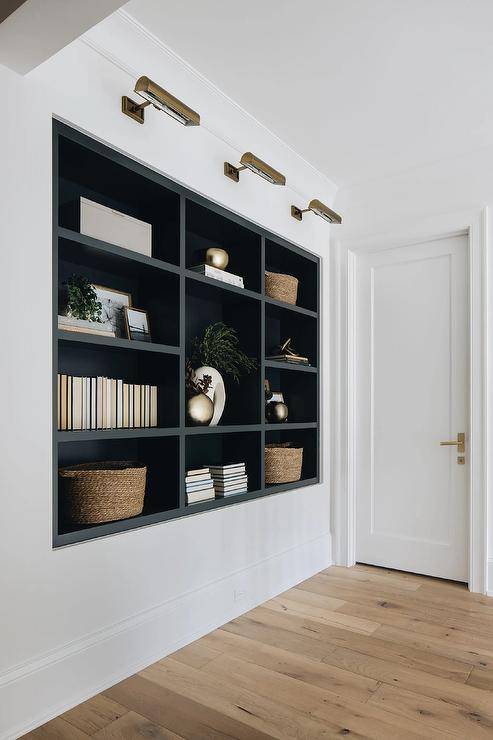 Nook Cabinet
If you have a nook in your hallway, you can easily install a cabinet in that space to give yourself more closed storage.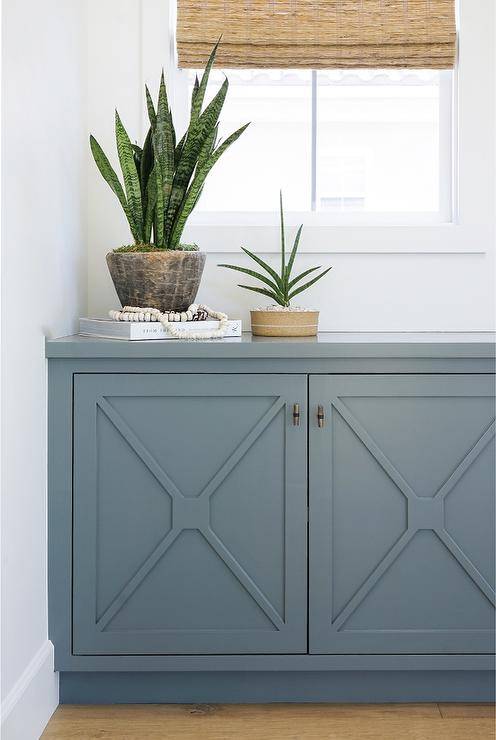 Floor to Ceiling Cabinets
Brass hexagon hardware complements stacked floor-to-ceiling brown oak hallway cabinets. This is ample storage space and also provides a warm, rich earthy tone to this hallway.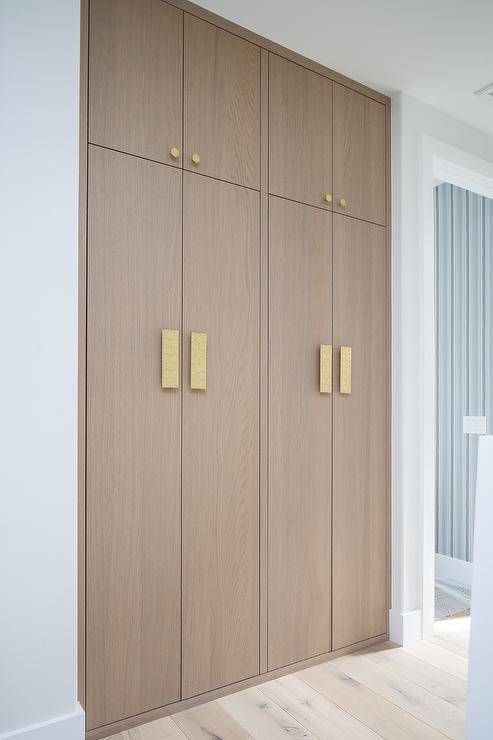 A beautiful light-filled hallway with ceiling-height built-in closets finished with crown molding and iron hardware. The linen closet area is flanked by a pair of built-in window seats with striped cushions. Dark hardwood floors finish the space.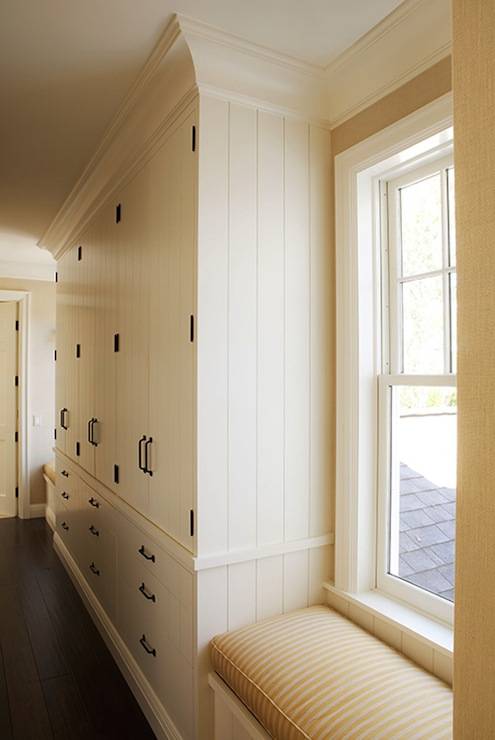 A fabulous hallway area with floor-to-ceiling shaker closets flanking a built-in storage bench with pecky cypress paneled back wall adorned with peg coat hooks makes a perfect area in your hallway to store almost anything.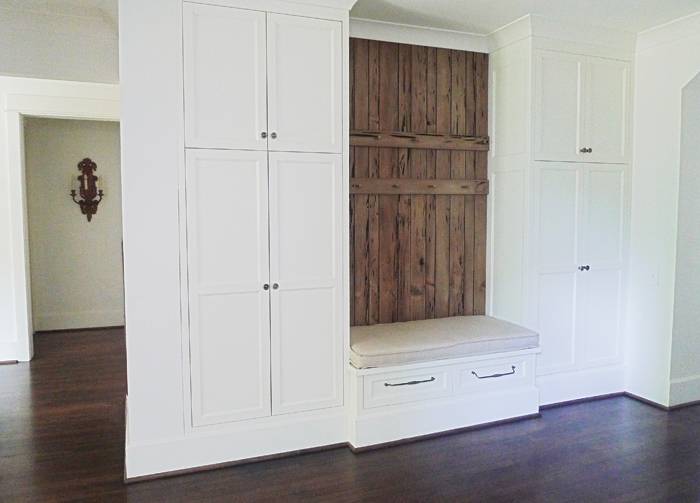 Built In Desk Area
If you don't have a home office, simply make one in a large hallway! You can use your hallway space to make a built-in desk area with overhead storage. The blue stripe rug gives this area a whole cottage vibe, and the desk is fixed beneath stacked art mounted to a white tongue and groove wall and lit by a cage sconce. Plenty of style and plenty of room!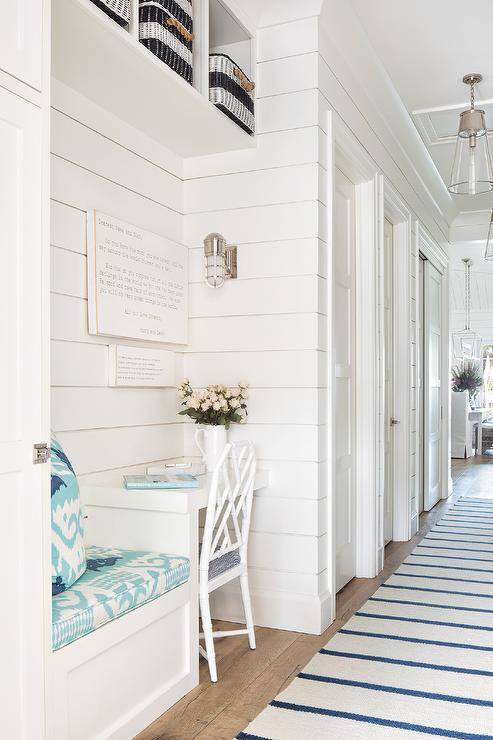 Rattan Tables
You can use creative tables to hideaway items underneath. These rattan tables would be perfect for hiding away things underneath that you don't often use. Simply move the tables when you want to access them.
Hallway Wine Storage
A long hallway with a wide plank wood floor boasts a glass wine cellar fitted with vertical wine racks. Making otherwise unused hallway space into a spot to store your favorite wines.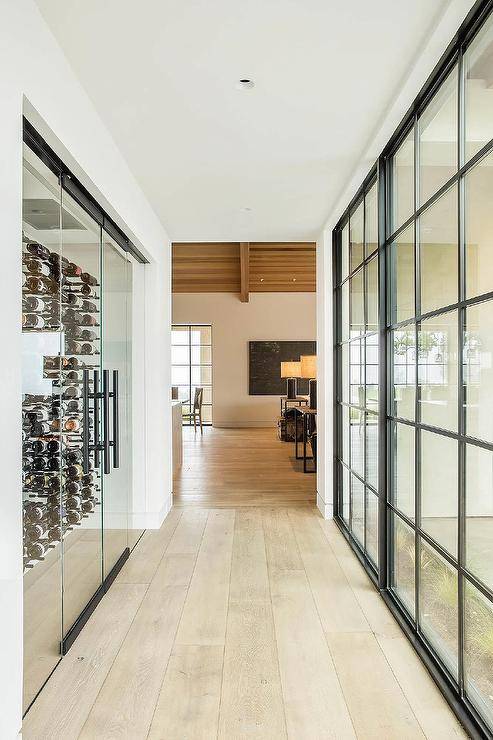 Built-In Cabinetry
Long built-in cabinetry is a great installation at the top of the stairs. Perfect for those hallways that are a little awkward in width and you're not quite sure what to do with the space. Plus this stunning blue color provides quite a focal point and adds a much-needed pop of color.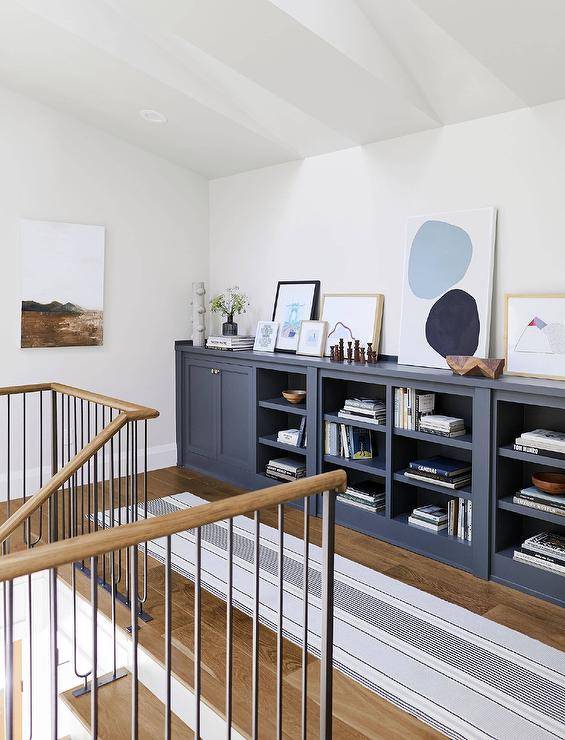 Add a Countertop Space
If you have the room for it and the budget, why not add a countertop space? This will give you an area to decorate as well as house items.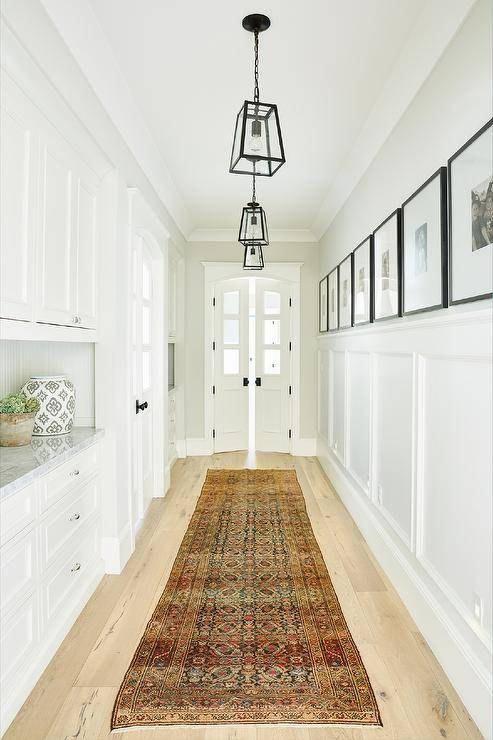 Use a Cabinet
If you have a little space and just want a bit of extra storage, a simple cabinet will do the trick, and it is quite common for most hallways.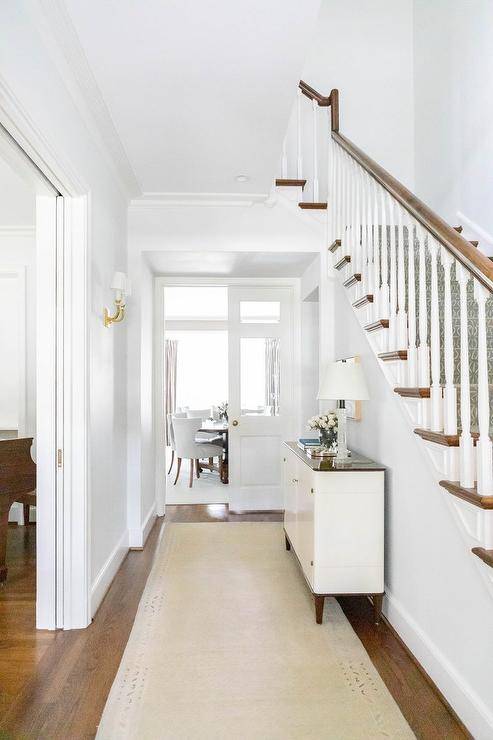 Floating Shelves with Built-In Cabinet
If you're going to do a built-in cabinet and you don't need so many closed-in cabinets, you can add some floating shelved above. This will give you space to decorate and keep your area classy and full of style and taste.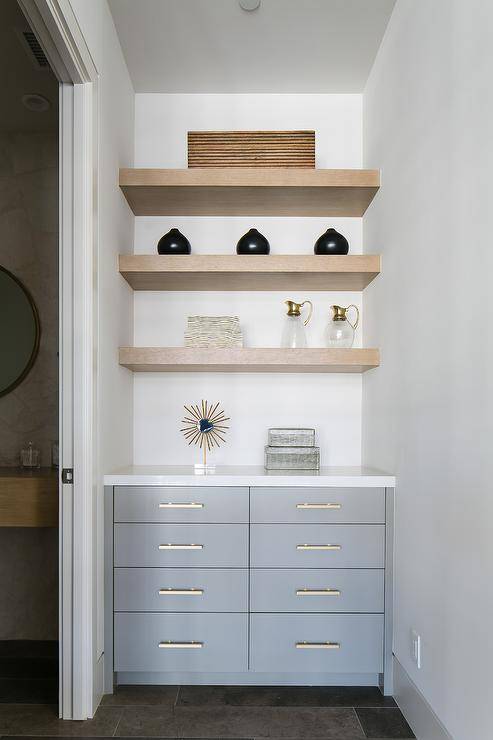 Rustic Charm
A beautifully fitted hallway boasts built-in gray cabinets donning oil-rubbed bronze pulls and positioned facing a black barn door on rails and beneath rustic wood ceiling beams fixed between white shiplap walls.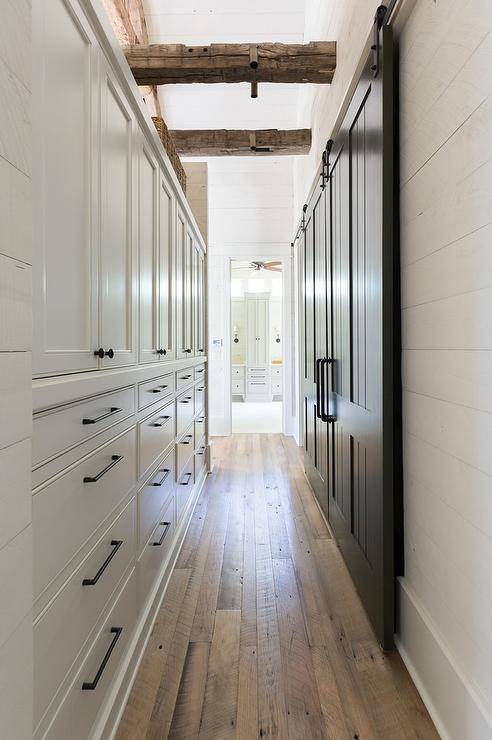 Hallway Laundry
If your laundry area is in your hallway, don't waste an opportunity to make it a beautiful yet functional space. This hallway laundry room was designed with a butcher block countertop and white cabinets fitted with oil-rubbed bronze hardware.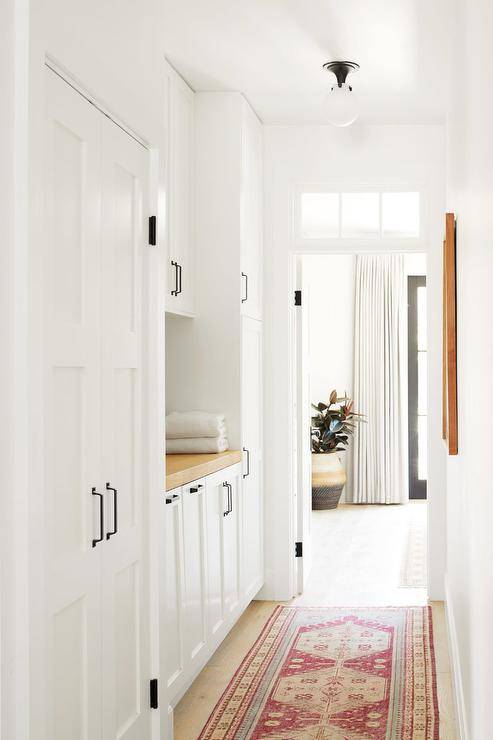 Built In Hallway Drawers
This was a staple in many older homes — built-in drawers in the hallway, and we are so glad to see it a comeback. Of course, with a new and modern look, though.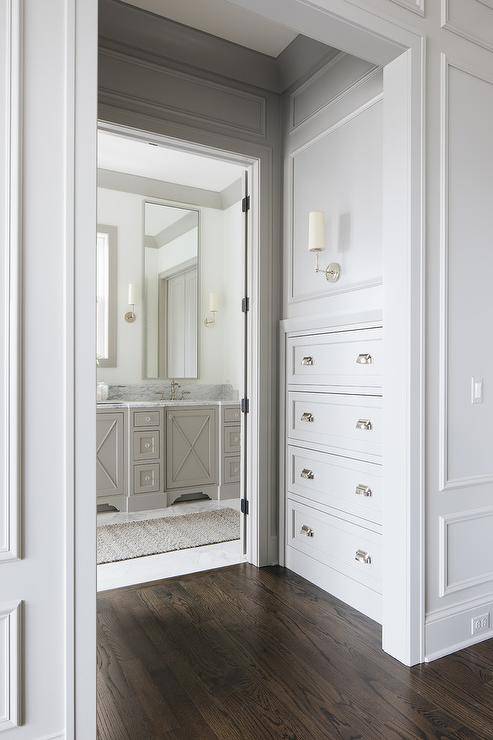 Small Work Area
Maybe you don't have enough room for a full-out office, but this small work area is the perfect inspiration for those with slimmer hallways that maybe want to incorporate a space to work.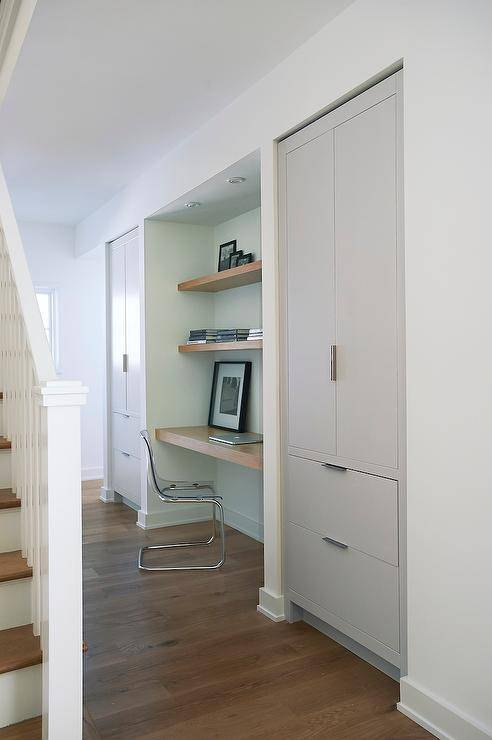 Storage, Mudroom, and Laundry in One
This hallway space has it all! A beautiful stairway with limestone tiled floors laid in a diamond pattern and grasscloth wallpaper. The mudroom area features built-in arched cubbies with bench and drawer storage. Overhead cubbies hold wicker baskets with closed cabinetry above. A stackable front-loading washer and dryer sit beside the mudroom area inside a built-in nook. A unique lantern-style pendant hangs over the space to bring it all together.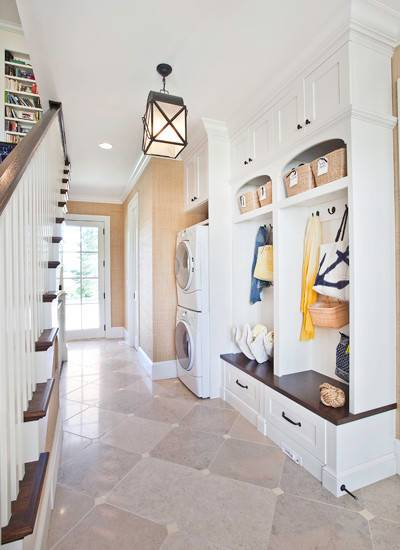 Add a Large Cabinet
Cabinets like this are typically used as armoires in bedrooms, but they look just as good at the top of the stairs in a hallway. This will give you storage, design, and style.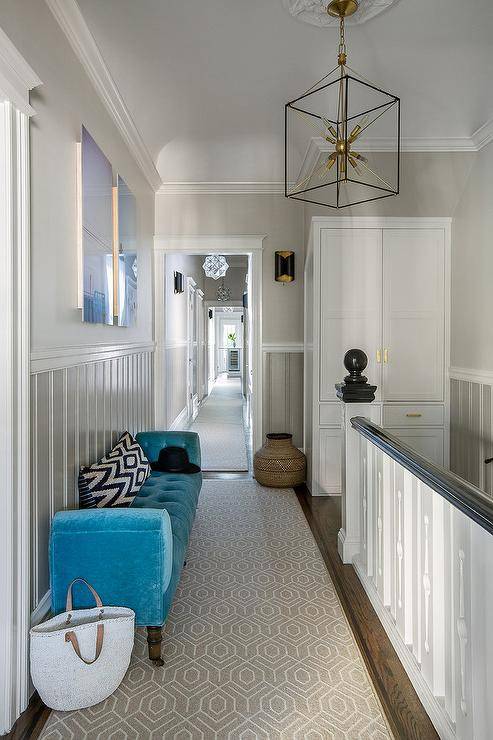 Bench Seating
This contemporary hallway features a built-in bench lined with a gray cushion and purple and gray striped pillows flanked by floor-to-ceiling geometric mirrored cabinets illuminated by Hicks Pendants. The mirror cabinets are a great idea to illuminate the space and make it appear much larger.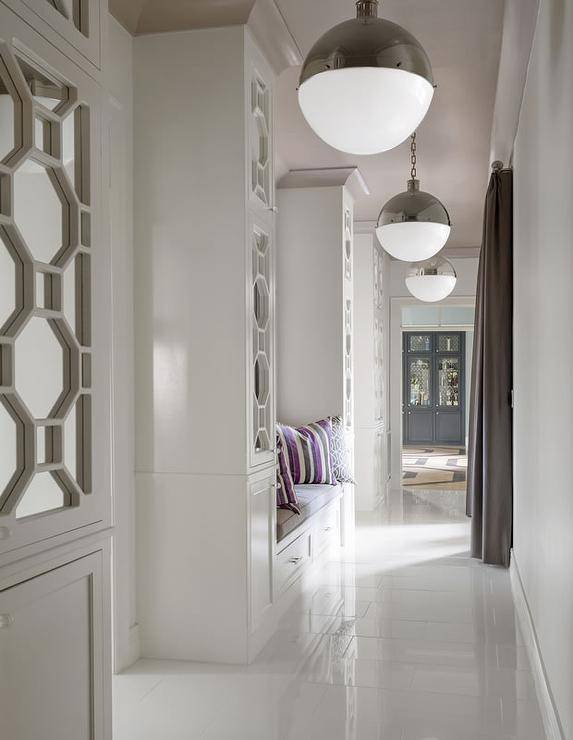 Cube Storage
Add a unique and stylish cube storage shelf to your hallway to create visual interest as well as storage. Stow away items you don't want seen into fitted seagrass baskets that also add a bit of contrast and style.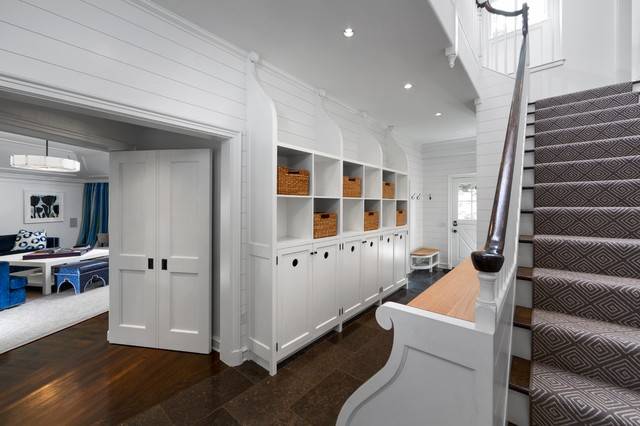 Matching Built-Ins
This hallway features his and her style built-ins on either side. The matching built-ins create symmetry and style as well as ample storage for whatever you want to tuck away.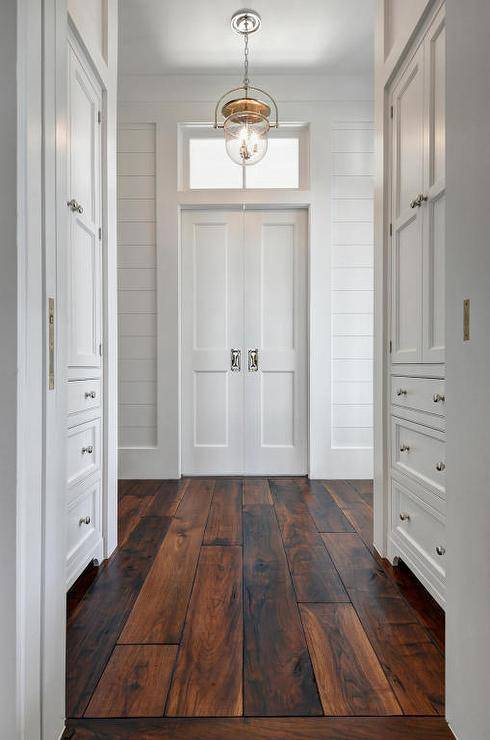 Hallway Mudrooms
This Family-friendly hallway mudroom with oversized tiled floors and gray walls has lots of storage options. At the end of the hallway stands open cubby storage for the family's outdoor wear. In the foreground, coat hooks line the wall with a cable picture hanging system holding colorful kids' artwork above.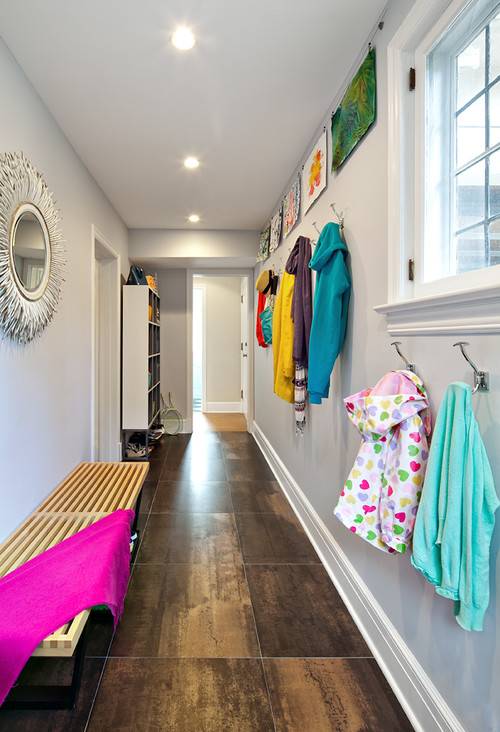 Long blue built-in mudroom bench with blue beadboard trim features woven baskets for extra storage accessible for the entire family.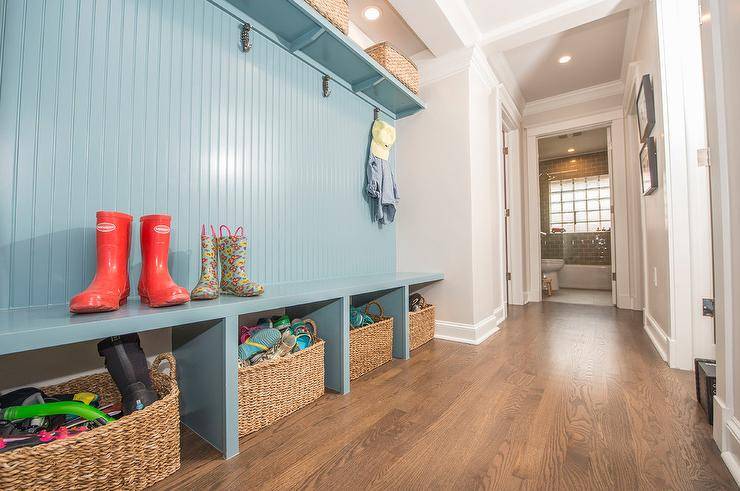 Arched Hallway
This well-appointed hallway features an antique pendant hung from a barrel ceiling between facing built-in wood shelves. The hallway leads to a bedroom, so it's the perfect spot to store linens and other bedroom accessories.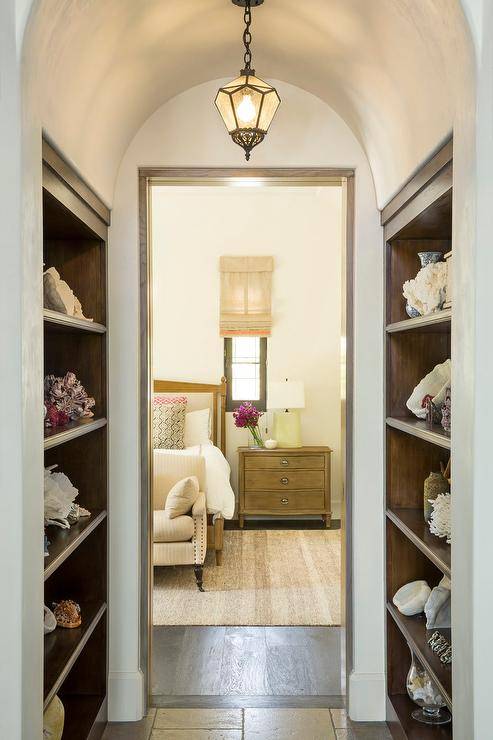 Photo Credit: Matt Morris Development
Turn your Hallway into a Homework Station
Creating a unique homework station is a great idea in an unused hallway. Built-in upper cabinets with open shelving over a weathered plank effect backsplash alongside a wall-to-wall taupe counter lined with Tolix chairs atop the beige wall-to-wall carpeting creates a clean and organized space to work.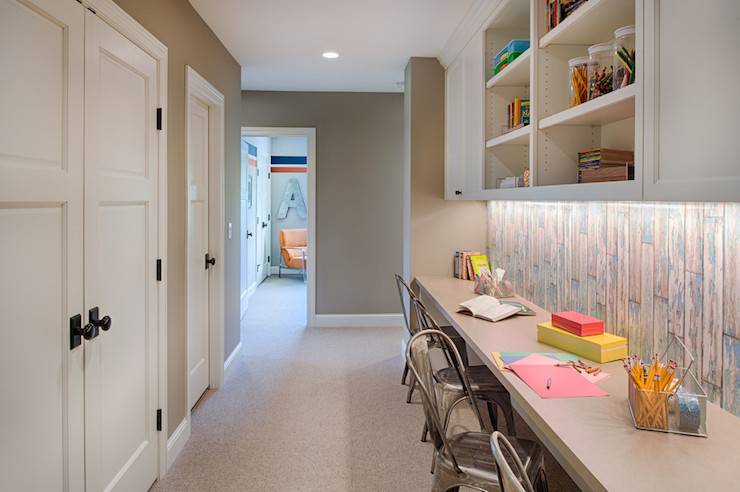 Quick Hallway Storage Tips
Now that we have provided you with some beautiful and stunning inspiration, here are some quick storage ideas to recap:
Storage Built in the Wall
One of the most suitable ways to organize your hallway is by building storage into the walls. If you have narrow hallway storage or no storage at all, you might want to consider going into the wall instead of making the space smaller in the hallway itself.
When you decide to build shelves into the walls of your hallway, the storage options for coats, blankets, and towels become endless. You're also opening up that once narrow space, helping it appear larger even with items on the shelves.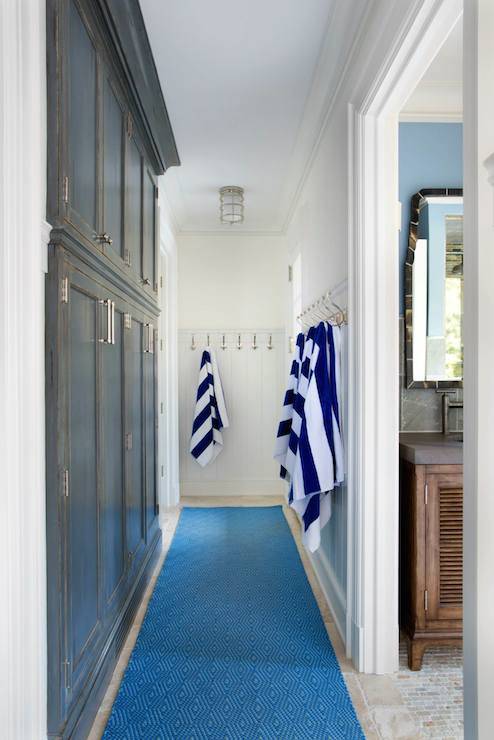 Sliding Door Storage
Many houses, townhouses, and condos have undersized spaces throughout the home, particularly hallways and entryways. This hallway space is generally where most people drop their bags, hang their outerwear, and store their shoes. If you do not have the proper area to store these things, you will find yourself frequently tripping over them.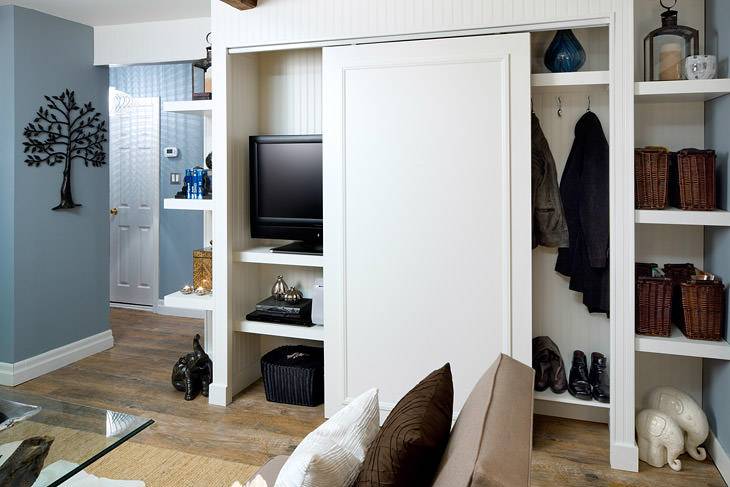 Sliding door storage is one of the best hallway storage ideas ever invented. A front-runner in hallway storage solutions, sliding door storage allows homeowners to build shelving into the wall and then secure it with a sliding door that blends in seamlessly.
Modern Modular Shelving
Sometimes, there is not enough space to build shelving into the wall. In this case, choosing sleek, modern, modular shelving is an amazing way to compensate for space.
Modular shelves come in various heights and widths, and they are usually not bulky in the slightest. Of course, many manufacturers offer modern shelves in wider styles, but for the most part, they are slim. The lack of bulk means that you can erect them in the narrowest of hallways, creating storage with great success for anything from houseplants to guest linens.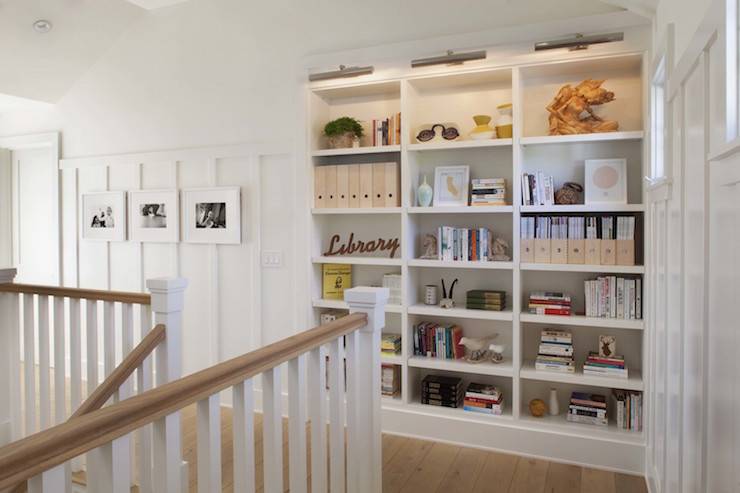 Storage Ottomans
Hallways that have more width could benefit significantly from a storage ottoman. Ottomans have come a long way over the years in design, and they are a frontrunner for those who have depleted all possible hallway shelf ideas.
Storage ottomans are available at most furniture stores and come in various sizes, colors, and shapes. You will be able to easily find one that works with your hallway and existing home decor.
Built-in Benches
Comparable to a free-standing ottoman, a built-in bench is a lovely addition to hallway storage ideas. Built-in benches coupled with shelving are an added storage bonus. You can open up your wall to insert the bench or simply secure it to the wall, depending on how much space you want to save.
Built-in bench units come in several styles and colors. You are sure to find something you love.
Peg Shelves
Pegged shelving has become rather easy to find. You can install pegged shelving right into the wall, which means your new shelves will not take up space on the floor.
From dog leashes to coats, plenty of things can come out of those bins you likely have crowding up your hallway and onto a pegged shelf!
Entryway Tables
Though the name suggests otherwise, you can place entryway tables anywhere in your home for a sleek, organized look. They vary dramatically in sizes, shapes, and colors and are perfect for storing necessary paperwork and office supplies.
You can easily tuck bins under the table for additional storage and utilize the tabletop for decor, keys, and wallets.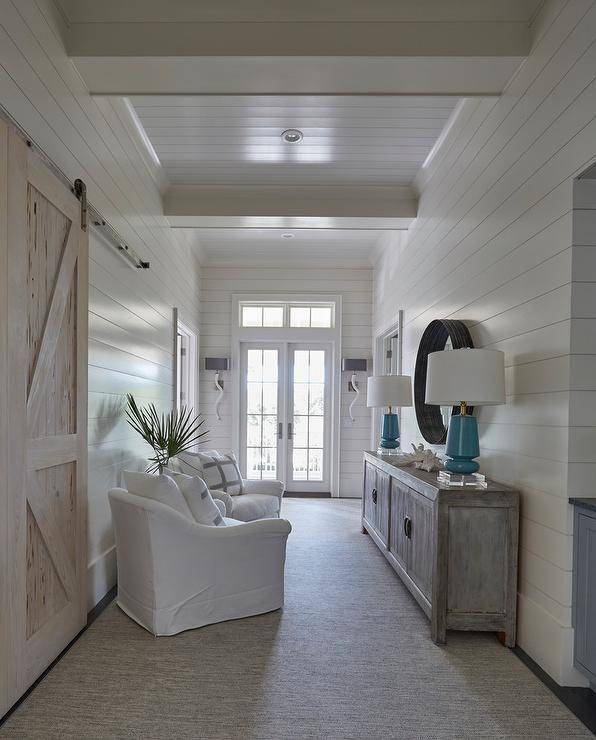 Cubby Storage Units
Storage unit cubes are sweet for hallway storage, particularly entryways, because they are a solution to the ultimate question: where should I put all of these shoes? Shoes are notorious for causing hallway clutter, and open storage cubes come in hundreds of styles with an incredibly accessible price range.
Quick Tips for Decorating a Small Hallway
Make storage baskets a stylish feature. 
Two-tone the walls. 
Paint any existing furniture.
Consider a statement hanging light. 
Bring your staircase to life with wall paneling.
Rely on multifunctional pieces. 
Warm things up by layering textures.
Use mirrors to illuminate and make the space appear larger.
Frequently Asked Questions

FAQ
How do I add storage to my narrow hallway?
Choose storage cabinets that you can mount onto walls and that are closed up and narrow enough not to block the hallway. Narrow wall-mounted cabinets take advantage of a narrow entrance hall and can also be used as a shelf to store other items.
How do you build storage in a hallway?
Pop in a simple peg rail, bench, and a feature hallway wallpaper idea to open up the space to make it feel more inviting. It's a place to sit and remove shoes before walking through the rest of the house. Store handy storage boxes or baskets under the bench for a simple shoe storage idea.
Can you put a bookcase in a hallway?
You can put a bookcase in the hallway. In fact, it's one of the most popular ways to style hallways, especially for book lovers. Even if you don't want to keep books on your bookcase, you can utilize the storage for showcasing things you love.
Can I put a wardrobe in hallway?
Built-in hallway wardrobes will provide ample storage. They are a useful area to store outerwear and shoes. Additionally, adding shelves with baskets will help keep smaller items safely in hand, such as house and car keys. Each member of the family could have their own basket so they are more organized.
What do you store in your hallway cabinets?
The right amount of shelving allows for easy storage of containers filled with out-of-season clothing and baskets filled with toys or games. A hall closet can also make a very useful linen closet. Shelving and even a set of drawers are optimal for helping to organize towels, sheets, and blankets.