This Post May Contain Affiliate Links. Please Read Our Disclosure Policy here
Puttering has been one of my favorite pastimes for as long as I can remember. It's been awhile since I've "puttered" though. With all of the moving and the holidays right after, I feel like I just got a few key things settled enough in our new home so we could function.
Puttering is to occupy yourself in an unhurried, pleasant manner on a number of small tasks or pleasures around the home, while not concentrating on anything in particular.
Puttering is therapeutic for me because there is no big end goal or expectation of what has to be accomplished. It's about the joy of being in the moment and simply making things prettier and more pleasing with what you already have.
My daughter Courtney was here visiting for a few days last week and we got inspired one afternoon to putter around the house. We decided to start in the living room, so we moved some furniture, shopped the house for things I already had or that I've been wanting to use in this space, and brainstormed future possibilities.
It's nice to set aside everything for a bit and just be creative! Puttering always makes me feel more connected to my home and my life, too. In my book A Lovely Life (available for preorder now!), I talk about the value of refreshing your spaces and finding little ways to celebrate a new season beginning. So that's exactly what we did, we ushered in spring! We had the fireplace on and the door open…it was lovely outside but chilly enough that the fire felt cozy. It's important to set the mood so you'll be inspired.
(By the way, at the bottom of this post you'll find a mood board with some of our living room sources and other similar ones!)
We switched a few things on the mantel, including putting out the new twisted taper candles that Courtney got me for Christmas!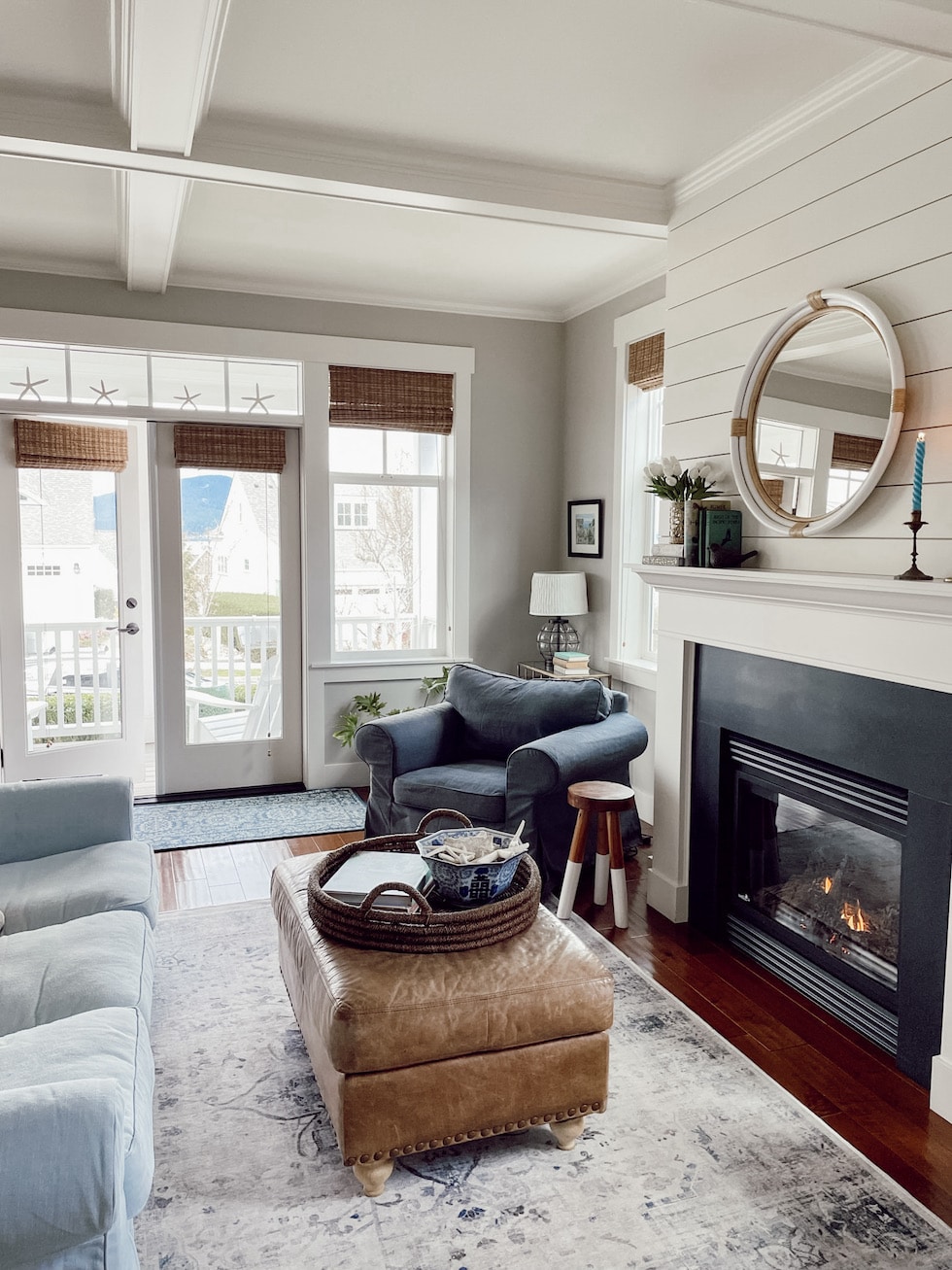 We put away our wintery pillows and then realized we didn't have spring pillows we wanted for this room! So we sat right down and ordered a few, I'll share when they arrive.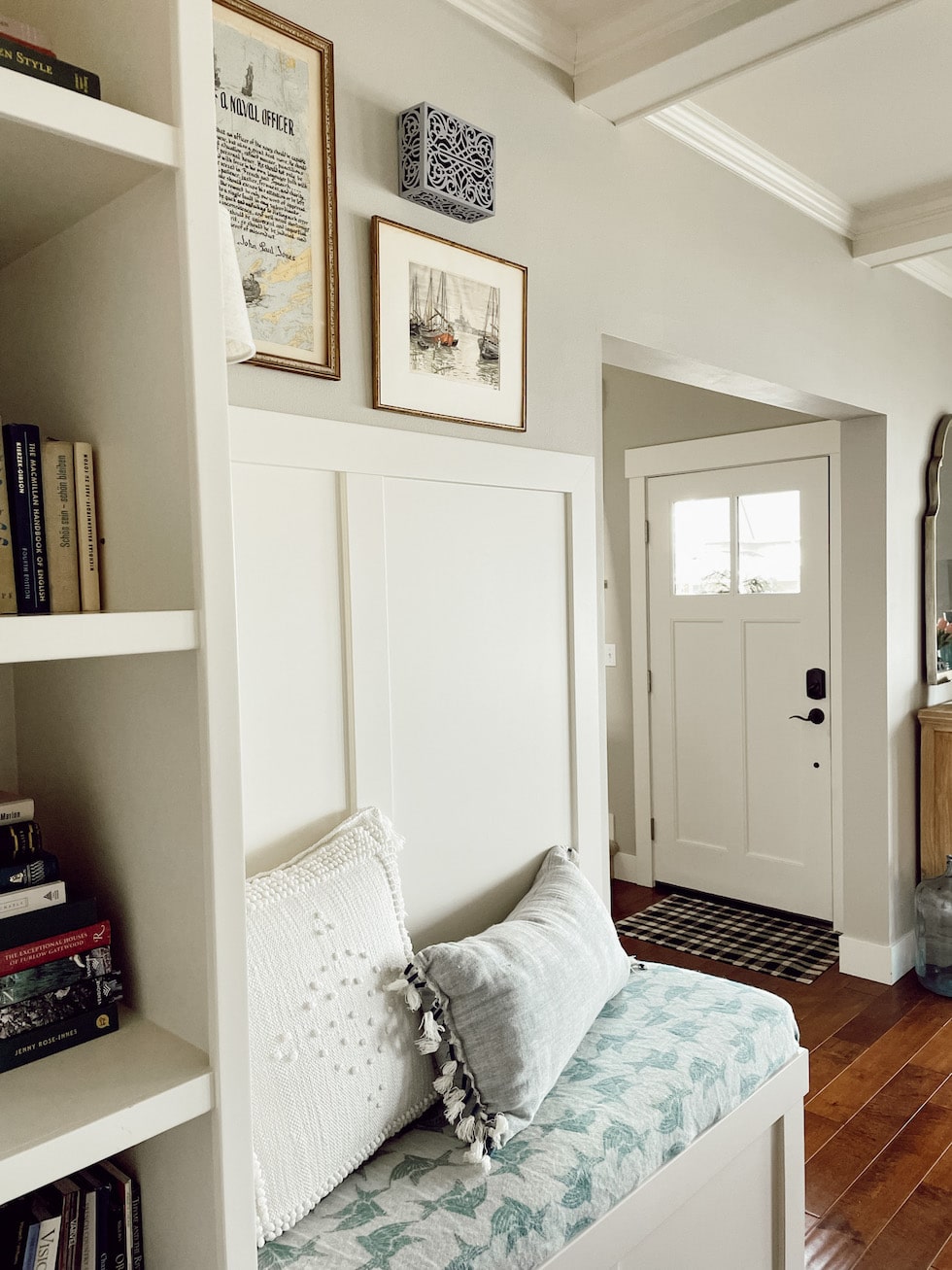 We wrapped a scarf around the bench seat to see what it would look like with a springy fabric. I love the idea of having a few different covers for this seat to change up each season, but using a scarf to switch it from dark gray to green was a simple solution for now!
We are still enjoying the wall sconce we hung without hardwiring (with this rechargeable light bulb). See my post all about how we did that here! It really made this spot so cozy and welcoming.
When we remodel our kitchen this room will get a bit of a refresh, too, but in the meantime we're having fun making it our own. We brought a table in for a lamp in the corner and hung a piece of art we had on the wall. The corner feels cozier already! I've often said if you don't know where to begin, start with a corner.
A few books, a bird and flowers. My favorite spring mix.
Another simple trick I use to change up a room is laying a blanket across the back of our sofa. It's an easy way to get a new look! I got this striped throw on sale here–it's out of stock now but they have so many nice looking throw blanket options at great prices!
This big round basket was on our wall at the old house, so it was fun to see it again and use it in a new way sitting on the leather ottoman.
A couple of weeks ago we switched up this corner. We moved the tall black bookcase to another spot and replaced it with this cabinet (which we also had in our old house). We knew we wanted a mirror here so while we were puttering, we tried one we already had (this used to be in our guest room). We weren't sure the size and shape we had would work here, but hanging it off center and balancing the whole vignette with the lamp made it work! Love when you basically already have what you planned to order.
A little creative puttering with what we already had saved us money and it brought in more light and expanded the view of the water and features of the room!
We also switched out the lamp on entry table for our beloved lamp with the rattan shade. (Click HERE for a similar white and rattan lamp. If you missed our post on mini lamps and other accent lamps, see it here).
While we were puttering in this area we got inspired for something in the entry, so stay tuned and I'll share it soon. (or go to my Instagram reel to get a sneak peek!).
The best part of puttering is you often begin to feel re-inspired for your home! You might just keep going! We sure did. Not only did we feel inspired to change something in our entry soon after this, but we already moved one of our mirrors and added a different one to the mantel after we took these photos!
Stay tuned for more puttering and spring changes in our home! Subscribe to my free newsletter here to stay in the loop and follow along on Instagram and Facebook.

Sources for above:
Whitewashed Wood Shutter Cabinet
Ceramic Table Lamp with Rattan Shade
Brass Wall Sconces with Shades (Set of 2, also comes in black)
White Artificial Tulips (many color options)
Blue and White Ceramic Ginger Jar with Lid
Blue and White Chinoiserie Square Decorative Bowl
Chunky Seagrass Round Basket Tray
Blue Patterned Rug (Ruggable Machine Washable)
Navy Blue Patterned Runner (Ruggable, multiple size options)
---

---
What are you doing to refresh your own home this spring? Come share with us in The Inspired Room Community (my free group for sharing your homes, asking decor advice, finding encouragement and connecting with other home lovers).