This Post May Contain Affiliate Links. Please Read Our Disclosure Policy here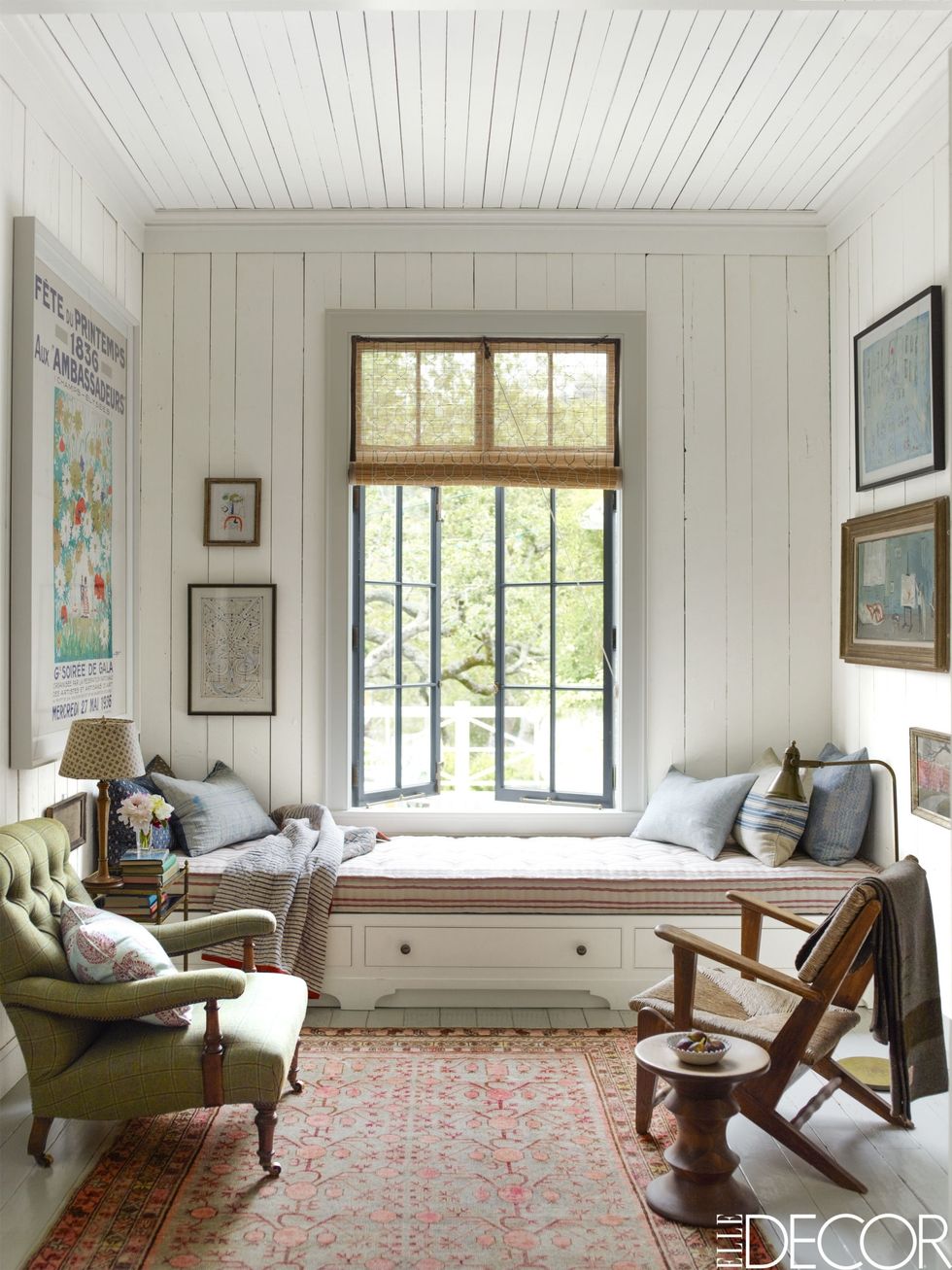 One of my plans for our new home is to create a built in bed (or two) in a room that will serve as both a quiet space for me to work and a comfortable place for our kids or guests who will visit. This daybed situation above is one of my inspiration photos! I not only love the flexibility of the arrangement (I would have two twin beds end to end), but having drawers underneath the beds are exactly what I need to make the most of our space.
When we downsized to our "smaller home" a few months ago and invited my parents to move in with us, I knew in time we'd have to figure out a few important details on how we'd use our available space. In addition to making decisions for how we want to live and function comfortably at home day to day, we would need to come up with other creative solutions such as making room for our kids to come to stay with us!
In a smaller home, flexible spaces and double duty rooms are often good options for maximizing what you have! We simply won't have a dedicated room for every need or excess space for every idea we come up with, so being intentional about the design of our home is going to be important.
We all have our own preferences and needs for space, of course, (and I will address more of our own needs, layouts and plans in future posts!). Every season will likely bring different needs for your family, too!
Over the past few weeks, I've been giving myself time in our new home to focus on and contemplate what our current (and future) situations are, what seems to work and what doesn't. Case in point, all four of us (my husband, my parents and myself!) stay home every day along with our two dogs. So while we are now officially "empty nesters" our nest isn't empty at all.
I know for myself as a writer and creator for my own business (The Inspired Room), I have unique needs for the types of spaces I like to use and that work for me in order to concentrate and create every day. I always strive to create a home that is inspired by our actual lives, not just the latest trends!
I've been doing this as a business since 2007 (and this is the FOURTH house we've lived in since I started The inspired Room!) so it's no surprise to me that a quiet and comfortable work environment has always been the key to my ability to do the work I need to do. Fun fact, I also worked from home part-time at a job even when our kids were little, long before I had my own business, so I've always learned to get creative with space and time in order to get the work done.
While the seasons have changed for us and the composition of our family has changed as well, my ability to work effectively in a full household still depends on good use of "away spaces" where I can be organized as well as escape every day to think, write and create.
Plus, I really miss my kids so some cozy guest beds will definitely be in our future!
What are the needs you have for space in your household? Would a double duty daybed room serve a purpose for you, too?
The inspiration image is also in the book A Place to Call Home, one of my all-time favorites!